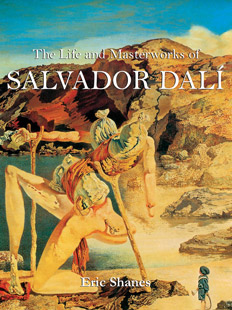 Temporis - The Life and Masterworks of Salvador Dalí
作者 :
Eric Shanes
出版社 :
提取碼 :
872888
分類 :

Painter, designer, creator of bizarre objects, author and film maker, Dalí became the most famous of the Surrealists. Buñuel, Lorca, Picasso and Breton all had a great influence on his career. Dalí's film, An Andalusian Dog, produced with Buñuel, marked his official entry into the tightly-knit group of Parisian Surrealists, where he met Gala, the woman who became his lifelong companion and his source of inspiration. But his relationship soon deteriorated until his final rift with André Breton in 1939. Nevertheless Dalí's art remained surrealist in its philosophy and expression and a prime example of his freshness, humour and exploration of the subconscious mind. Throughout his life, Dalí was a genius at self-promotion, creating and maintaining his reputation as a mythical figure.


About the author:
A painter as well as a writer, Eric Shanes has exhibited his works many times in London and elsewhere. He is one of the world's leading authorities on one of Britain's greatest artists, J. M. W. Turner, and the author of ten bestselling books and catalogues on the
life and work of this major European painter. Shanes is the current president of the Turner Society, and he is also the founding editor of Turner Studies, a scholarly journal published by the Tate Gallery. In 2000, he was the curator of the major exhibit "Turner: The Great Watercolours" that was held at the Royal Academy of Art in London to mark the 150th anniversary of Turner's death.

His books and catalogues on Brancusi, Warhol, Hockney, The Golden Age of Watercolours, The London Impressionists, and Pop Art have all been well-received by critics. The author of numerous publications on contemporary art, he gives lectures all over the world.
ISBN:
9781780428796
出版日期 :
2013-09-10